Holiday Bonuses
The holidays often bring lots of cheer, festivities—and those much anticipated year-end bonuses. What is the best way to spend your holiday bonus?
HOW GENEROUS ARE BUSINESSES TO THEIR EMPLOYEES OVER THE HOLIDAYS?
Accounting Principles surveyed 500 businesses and found that 75% of them will give out holiday bonuses this year. For example, last year the average company bonus was $1,081.
HOW SHOULD THAT BONUS BE SPENT?
Generally, 80% should go toward paying off debts and increasing savings, while 20% should go toward fun.
LET'S BREAK IT DOWN:
This flow chart lays out the options for how to allocate that a holiday bonus.
Pay down debt.
Add to your emergency fund.
Contribute to your 401(k) or IRA.
Save or spend the rest!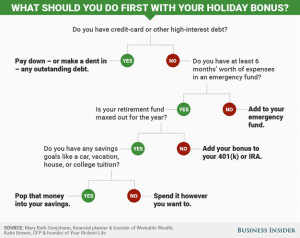 (Click image to enlarge)
It is important to use part of a bonus for fun.  All and no play…not a good recipe for joy.