Intereste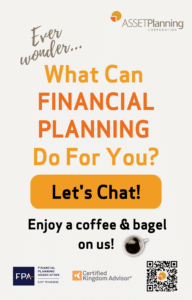 d in attending our next Coffee & Bagels event at The Empty Cup?
One of the things we've noticed is that some people really have no idea what to expect when meeting with a financial planner. Let's face it – talking about this stuff can be a little intimidating. Our Coffee & Bagels events are an easy way to ask questions.
If you (or someone you know) would like to learn more about what financial planning is all about, come chat with us!
We'd be happy to bless you with a voucher for free coffee and a bagel (or other treat).
Don't want to wait for Coffee & Bagels? You can schedule a one-on-one introductory meeting at our office! 
Simply provide your information below to be notified about our next event or to request an individual meeting.