Is Bitcoin a Digital Currency or a Digital Tulip Bulb mania? Many investors are wondering if electronic money deserve a place in their portfolios.
WHAT IS BITCOIN?
Simply put,
Bitcoin is a digital currency also called a "cryptocurrency."
It is a form of code made by computers and stored in a digital wallet.
Transactions are recorded on a public ledger called blockchain.
Decentralized — there's no government, bank or other authority that controls it.
Finite supply: 21 million units (16 million in circulation).
1,000: More than a thousand digital currencies, with more sprouting up every day.
HOW DO YOU GET A BITCOIN?
Digital currency exchanges like Coinbase — where you can buy, sell and store Bitcoins.
Getting started is about as complicated as setting up a Paypal account.
You can use Bitcoin to buy things from more than 100,000 merchants.
You can sell it. Or you can just hang on to it.
Recent price, ~$17,000 per bitcoin.
WHAT PLACE IF ANY SHOULD BITCOIN PLAY IN A DIVERSIFIED PORTFOLIO?
Skip it for now.
2017 Bitcoin price range: $1000 to $19000!
Bubble Mania? Reminiscent of tulip mania that hit Holland in the 1600s, tech stocks in the 1990s, real estate in the 2000s.
Bitcoin has no fundamentals. No revenue or cash flows, no interest yield, and no physical assets backing it up.
Warren Buffett quote: "FOMO" (fear of missing out). Supply and demand forces at work at present.
High-risk products with an unproven track record and high price volatility.
High risk of fraud: Multi-million dollar digital thefts have already occurred!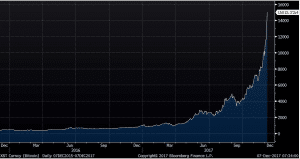 Click image to enlarge