According to a recent survey from Caring.com, six in ten American adults do not have a will or living trust. Just what is an "estate plan?" Certified Financial Planner Paul Fain joins us again with your Sunday Money.
WHY DO SO MANY PEOPLE IGNORE ESTATE PLANNING?
The two main reasons that people ignore or postpone estate planning were because they:
47% "hadn't gotten around to it"
29% "don't have enough assets to leave to anyone"
BUT THERE ARE MANY REASONS TO HAVE AN ESTATE PLAN BEYOND WORRYING ABOUT DEATH RIGHT?
Life can be unpredictable. Estate planning is the management of your "stuff" while living and at death and needs to be updated with life events.
PAUL WHAT ARE THE THREE ESSENTIAL ELEMENTS OF AN ESTATE PLAN?
Will (or Trust): create a will that clearly outlines how assets should be distributed. includes: appointment of an executor, beneficiaries, and guardians for any minor children. Note: retirement or life insurance beneficiary forms trump other legal documents.
Health care proxy or living will: A health care proxy names another person who can make vital health care decisions for you if you are unable to do so. A "living will" lists the medical treatments doctors can provide if a person cannot convey this information personally.
Durable power of attorney: a legal document in which you grant another person legal authority to act on your behalf.
FAST MARKET FACT: The death of Retail. Recommendation: Diversify!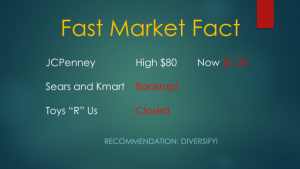 QUESTION FOR OUR MONEYMAN?
Send them to Paul@assetplanningcorp.com!
You can also reach Paul by using the contact page on APC's website.