Basic Investing Building Block #2
Investing can be complicated to the average "Joe or JoAnn."  However, having just the simplest knowledge of what it is and how it works can help you manage your money with confidence.  Let's break it down in a way that makes it easier to understand.  This is the second in our series about the What, Why, Who, When, and How of investing.
What is investing?  Investing essentially means buying something with the hope of selling it for a higher value at a later time.  It is a way to help grow your resources for the future. 
In what do we invest?  Stocks and Bonds.  A stock is an ownership share in a company (owning a small sliver of a company).  A bond is basically a loan to a company. 
You can invest in individual stocks and bonds, mutual funds, or exchange-traded funds (ETFs).  Mutual funds and ETFs enable you to greatly increase the number of companies you are invested in (diversification) while keeping the simplicity of just a few different holdings in your investment account.
Inflation-A general increase in prices of products or services and a fall in the purchasing value of a given currency.
U.S. Treasury Bills– A short-term U.S. government debt contract backed by the full faith of the Treasury Department with a maturity of one year or less.
U.S. Long –Term Government Bonds Index– These bonds are guaranteed by the U.S. government and, therefore, still have a very low risk like cash but have a slightly higher return over time.
Large Cap Index.- When you hear large-cap stock, this means a company whose total value, also known as capitalization, is greater than $10 billion.  (This is calculated by taking the current price of the stock multiplied by the number of shares.)  An example of a large-cap company like this would be Apple Inc.
These are riskier than bonds, but because we are talking about large established companies, they will have less risk than smaller companies. 
Small Cap Index– This includes companies that are smaller than large caps.  In other words, they have a total value that is less than $10 billion.  This is the investment with the highest volatility but, historically, has had the highest return. An example of a Small Cap company is Bed Bath & Beyond.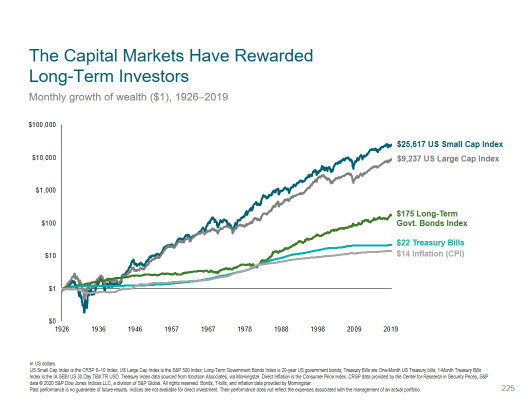 What's the point of this information and the chart?  To illustrate how investors are willing to accept the greater risk because they expect to be rewarded for that risk over time.
So how can you control risk while growing your resources?   That will be addressed in our next blog!
QUESTIONS?
Do you have questions about financial planning, investing, or retirement planning? Send your questions to our Knoxville certified financial planners or directly to Steve@assetplanningcorp.com!