The U.S. stock market recently entered correction territory – dropping about 10% – for the first time in two years. The increased market volatility continues to rattle investors. What is causing the market decline and what should you do about it?  Here are 8 tips for your investment strategy.
WHAT IS CAUSING RECENT MARKET VOLATILITY?
Investor Sentiment: over-reaction leads to more selling and downward pressure.
Inflammatory headlines: for example, "crash, panic, cratered, largest point decline in history"
Increasing inflation pressure.
Rising interest rates.
THE STOCK MARKET HAS BEEN LOOKING A LITTLE PRICEY, IS THERE SUCH A THING AS A "HEALTHY CORRECTION?"
Absolutely!
High stock valuations adjust to more reasonable levels.
Over-eager investor sentiment gets a reality check.
DOES THE DOWNTURN CONCERN YOU?
Not particularly:
Economic and Corporate growth remain strong.
Declines are common. 10% corrections have occurred in two-thirds of years since 1979.
Pullbacks are likely to be temporary. Just look at history.
WHAT TIPS DO YOU HAVE FOR INVESTORS?
Have a game plan.
Stay globally diversified
Know what you own and why you own it.
Be patient.
Rebalance back to target allocations.
Stay the course unless your financial situation has changed.
Play defense: Do you need to increase defensive assets such as cash or short-term bonds?
Continue to save. Remember the time-tested wisdom of "buy (rebalance) low, sell (rebalance) high."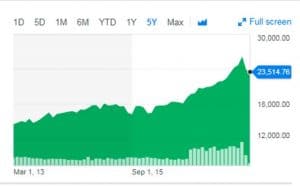 (Click image to enlarge)